Basic CPU stuff¶
Privileges & Rings¶
A program is usually limited to its own address space so that it cannot access or modify other running programs or the operating system itself, and is usually prevented from directly manipulating hardware devices.
What when a simple application needs acces to these components?

system calls are a well defined and safe implementations for such operations which operating system provides.
System call¶
System call is a way in which a computer program requests a service from the kernel of the operating system it is executed on.
operation system (kernel) : highest level -> ring0
program requests a service via system call
cpu goes into a elevated privilege level (passes control to the kernel)
kernel: should the program request be granted?

the kernel executes a specific set of instructions
returns the privilege level to that of the calling program
return to calling program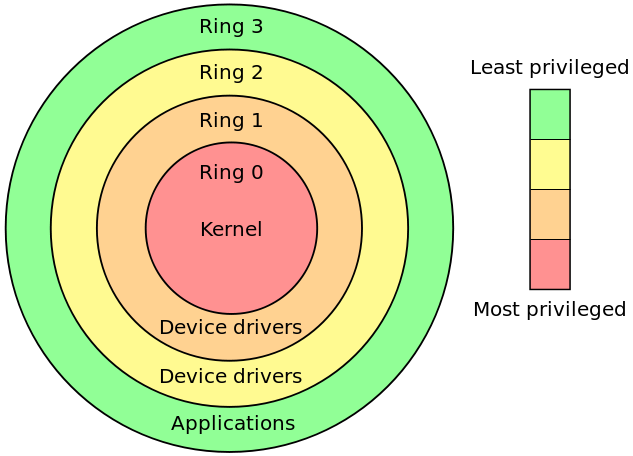 Privileged instruction¶
a privileged instruction is a processor op-code (assembler instruction) which can only be executed in "supervisor" (or Ring-0) mode.
These types of instructions tend to be used to access I/O devices and protected data structures from the kernel.
Regular programs execute in "user mode" (Ring-3) which disallows direct access to I/O devices, etc.